We finally found a real picture of Muni!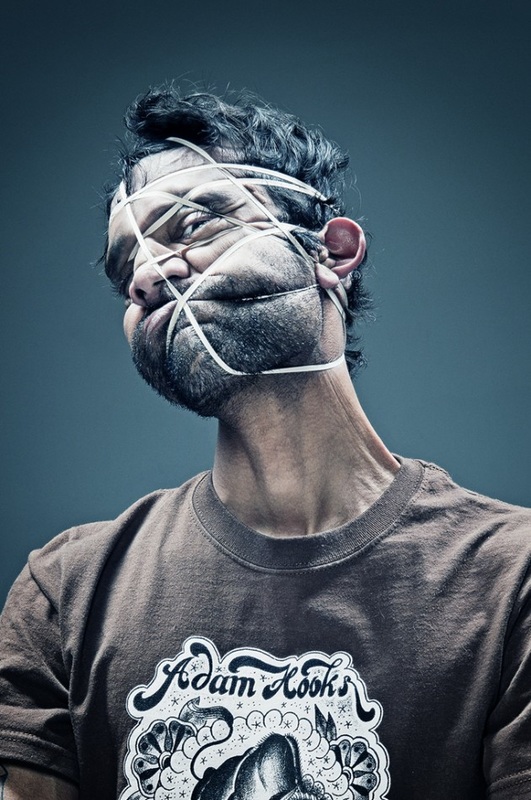 (photo by Wes Naman)
Here he is wearing his new experimental orthodontic headgear. That underbite of his should be cured in no time! He will be wearing this apparatus to all of our shows this month. Please do not point and laugh- he is very sensitive about it. Also, no pulling and snapping the rubber bands. He has complained repeatedly to us that it "hurts".
April 2016Saturday, April 2nd
Scalo Il Bar, Albuquerque, NM
9:00pm - 12:00am
http://www.scalonobhill.com
Sunday, April 10th
Canteen Brewhouse, Albuquerque, NM
3:00pm - 6:00pm
http://brewery.ilvicino.com
Thursday, April 14th
Scalo Il Bar, Albuquerque, NM
9:00pm - 12:00am
http://www.scalonobhill.com
Friday, April 15th
North Valley Senior Center, 17th Annual Festival International, Albuquerque, NM
10:00am - 10:30am
http://www.cabq.gov/seniors/senior-multigenerational-centers/north-valley-senior-center
Saturday, April 16th
Rock and Rhythm Youth Orchestra Final Concert (and us!)
South Broadway Cultural Center Theater, Albuquerque, NM
7:00pm, $5
http://holdmyticket.com/event/240777
​
Saturday, April 23rd
Seasons Rotisserie and Grill, Albuquerque, NM
6:00pm - 9:30pm
http://seasonsabq.com
Friday, April 29th
Monte Vista Fire Station, Albuquerque, NM
9:00pm - 12:00am
https://www.facebook.com/MonteVistaFireStation/
Orthodontically Yours,
Le Chat Lunatique